Contents
Welcome

Mirai Nikki database that anyone can edit!
1,161 edits to 32 articles since it was made! You can help us by contributing!
This wiki contains a lot of spoilers relating to Mirai Nikki. Read at your own risk!

Please see below for important pages.
---
---
About Us
·
Community Portal
·
Recent Changes
·
Policy
·
Images
·
Templates
·
Wanted Pages
·
Help
Please Help Out!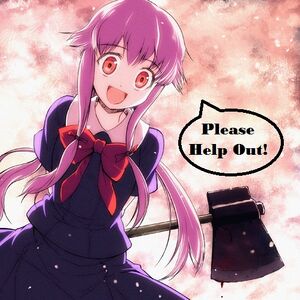 Right now, Mirai Nikki Wiki needs a lot of your help. Anyone can help out just by adding info and sharing anything you know about the Mirai Nikki anime and/or the Mirai Nikki manga, though the best way to start adding info is by editing articles that need more info. You can also help by adding a photo. We'll be counting on you! Thank you so much for your time!
About Mirai Nikki
About Mirai Nikki
Mirai Nikki (未来ニッキ) is a manga series written and illustrated by Sakae Esuno. Yukiteru Amano is a loner who never really interacts with people and prefers writing a diary on his cell phone with his only companion being an imaginary friend named Deus Ex Machina, the God of Time and Space. However, Yuki soon learns that Deus is real when he makes Yuki participate in a battle royal with eleven other people. Within this "Diary Game", the contestants are given special diaries that can predict the future, with each diary having unique features that gives them both advantages and disadvantages. Within the next 90 days, the contestants must try to kill each other and survive until there is only one person standing, the winner becoming the new God of Time and Space. In order to survive, Yuki tries to find allies, with one of them being another diary user named Yuno Gasai, a girl who is madly in love with him. As the game continues, Yuki soon learns that...
Featured Media
Featured Anime Episode
Episode 1: Sign Up Again... Spoiler alert! Read At your own risk!


Sign Up (サインアップ / Sain Appu) is the first episode of Mirai Nikki. Yukiteru Amano is a loner who spends his time writing in his cell phone diary, playing darts and talking to an imaginary friend, Deus Ex Machina. However, one morning, he finds his diary entry for the day has...
Featured Manga Chapter
Fan Made Portal
This is the Fan Made Portal. Here, we choose one winner from each of the following categories: Fan Art, Fan Fiction, and Fan Made AMVs/MMVs; regarding Mirai Nikki.
For this month, the following are the Features:
Picture of the Month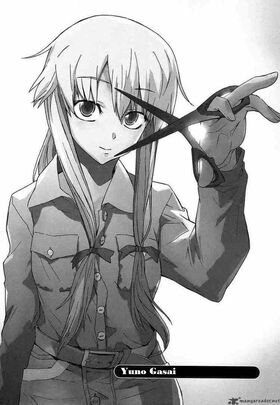 WikiaAnime Twitter Feed

Featured Article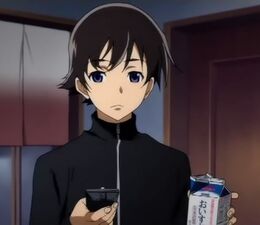 Amano Yukiteru (天野由紀輝), also known as Yuki (ゆき), sees his own life as if he were a bystander. His "Random" or "No Difference" diary reflects that attitude. In a detached, neutral tone, the diary records the future changes in his surroundings every couple of minutes. This gives Yukiteru timely, detailed entries of the future around him and is perhaps the one of the most accurate diaries revealed so far. It is extremely versatile and useful in...
Main Artice: Amano Yukiteru
Characters
Main Page Poll
Which diary would you have if you were a Future Diary holder?
Featured Quote
"
I can't kill you. I can't stab you.
"

—Yuno telling Yuki that she can not kill him because she loves him.
Sakae Esuno

Sakae Esuno (えすのサカエ Esuno Sakae) is a Japanese manga artist most known for his manga Mirai Nikki, published by Kadokawa Shoten or Shonen Ace Magazine, in 2006. The series is now adapted into an anime. In 2001, his manga Railroad Angel won the 11th Newcomer Award Ace and the...
Help Start A New Article
Start a new article

To start a new article, just enter the article title in the box below and click Create New Article.

If not, then please help out in the stub pages.
Spring Season 2020 Anime Wikis

TV Anime

TV (Multiseason)

ONA

OVA

Specials

Film
Community content is available under
CC-BY-SA
unless otherwise noted.